In case you haven't heard, I've been streaming on Twitch every Thursday and Friday 2pm MST. I play Yugioh on DN as Dubkdadone, play awesome music, and chat with the viewers on the stream. I invite everyone to request their favorite music, talk about their favorite topics whether it be politics, sports, anime, or whatever. Also, when time permits, I have viewer duels that are password protected. The passwords are selected by the viewers in the chat and only viewers from the stream get to challenge me.
This week on the stream I'm going to be building a couple of decks with the help of the viewers. Some of the decks suggested were a deck revolving around Generation Force and Utopia and a Monarch deck. Just so you know this is Generation Force: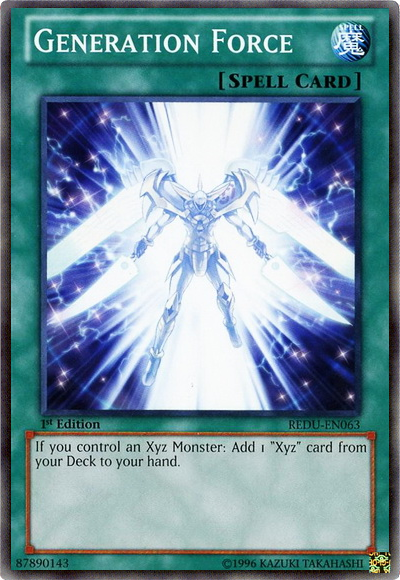 I think as a fun card, it doesn't get much better than this. With this card you can tutor an XYZ themed Call of the Haunted, Pot of Greed, Raigeki, and even a Heavy Storm. I honestly cannot wait to see what direction the deck goes in.
Before I go, I'd like to ask that you consider helping me out to improve the quality of the stream and to obtain cards so that I might make a return to competitive play and eventually start travelling to events and meeting up with people again. If you are interested please take time to visit my
Twitch Donation page
. Donations during stream get priority during viewer duels and other perks. Thanks again and see you on Thursday!